Brut Rosé - 2013 6PK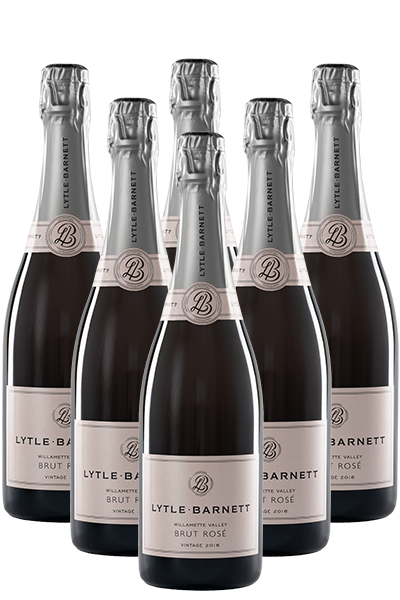 THE BEAUTY OF THE BRUT ROSÉ IS THAT WE JUST HAVE THE SKIN CONTACT FOR A BRIEF PERIOD OF TIME WITH THE WINE. IT CREATES A BEAUTIFUL COLOR HUE. WE AIM TO GET SOMETHING THAT IS VERY SOFT, VERY PINK, BUT VERY BRIGHT.
THE BUBBLES ARE MADE IN THE VINTAGE MÉTHODE CHAMPENOISE TRADITION. HAND PICKED IN THE WILLAMETTE VALLEY THEN GENTLY PRESSED WHOLE CLUSTER IN A PNEUMATIC PRESS. THE PINOT NOIR CUVEÉ IS KEPT SEPARATE AND FERMENTED IN STAINLESS AND OAK BARRELS. WE BOTTLE IN EARLY SUMMER AND LEAVE IT TO AGE FOR A MINIMUM OF 3 YEARS SUR LATTE (ON THEIR SIDES). AT DISGORGE AND DOSAGE WE DON'T THINK THE WINE NEEDS A LOT OF SUGAR SO WE ONLY ADD ABOUT 2-3 GRAMS PER LITER. THE WINE THEN RESTS FOR ANOTHER 3 MONTHS BEFORE RELEASE.
LIGHT IN ITS HUE, THE BRUT ROSÉ CAPTURES THE ESSENCE OF THE RED FRUIT WITHIN. STRAWBERRY AND RASPBERRY NOTES MINGLE OVERTLY WITH BREAD NOTES AND LIGHT FLORAL TONES. THE TINY BUBBLES CARRY THESE NOTES WITH CLEAN ACIDITY AT THE END OF A LONG STYLISH FINISH.
WINE INFORMATION SHEET