Blanc De Noirs 2013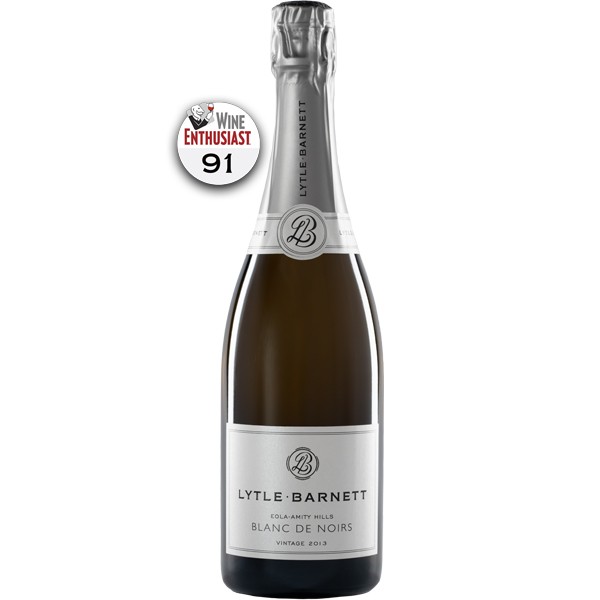 Rated 91 Pts By Wine Enthusiast
Our Blanc de Noirs or "White from Black" is the translation of Oregon's most well known red grape, Pinot Noir, into a powerful, single variety, vintage sparkling wine.
How It's Made:
All of our grapes are hand picked and then gently pressed as whole clusters in a state-of-the-art pneumatic press. The Blanc de Noirs juice is immediately separated from the skins after pressing. This 100% Pinot Noir based cuvée is fermented in stainless steel tanks and oak barrels to simultaneously preserve acidity and impart richness. All of our wines are bottled early in the summer, undergo secondary fermentation in the "Methodé Champenoise" style (meaning in the bottle) and then age for a minimum of 3 years. After aging, at the time of disgorgement we add a very minimal dosage of 2-3 grams per liter of sugar creating a very dry, Brut nature style. The wine then rests for another 3 months before release.
Tasting Notes:
The fleshy hued wine expresses the warmth and richness of the vintage with a full bodied structure, complex aromatics and fine persistent mousse. On the nose, notes of fresh strawberries, rhubarb, and pound cake shine through. The delicate aromatics are complemented by a supple and powerful palate with flavors of bright red cherry, distinct minerality and refreshing, crisp texture.
Blanc de Noirs is our favorite food pairing wine; we believe it goes well with everything, but especially great food and great company.