Blanc De Blancs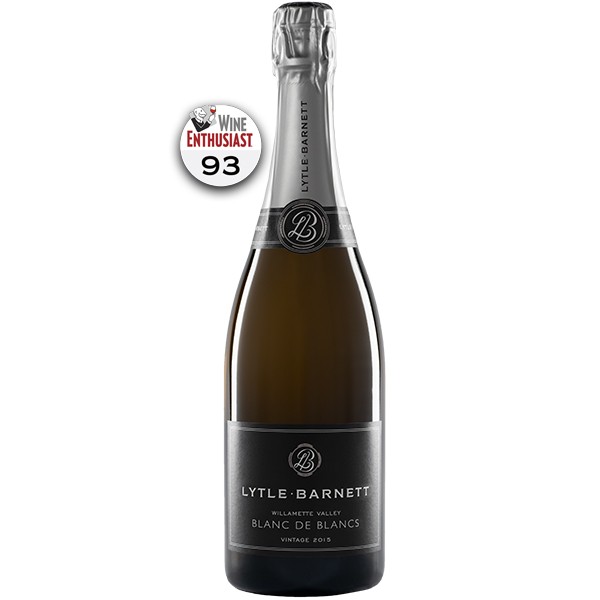 Rated 93 Pts By Wine Enthusiast
Our passion for the Blanc de Blancs style of Champagne is the reason we started Lytle-Barnett.
We decided to turn our passion into a reality. The Willamette Valley has been producing incredible Chardonnay since around 2008. We pride ourselves on being at the forefront of creating excellent vintage, Chardonnay-based sparkling wines that exemplify the unique terroir of Oregon's Eola-Amity Hills AVA.
How It's Made:
All of our grapes are hand picked and then gently pressed, as whole clusters in a state-of-the-art pneumatic press. This 100% Chardonnay cuvée is fermented in stainless steel tanks and oak barrels to simultaneously preserve acidity and impart richness. All of our wines are bottled early in the summer, undergo secondary fermentation in the "Methodé Champenoise" style - meaning in the bottle, and then age for a minimum of 3 years. After aging, at the time of "disgorgement" we add a very minimal "dosage" of 2-3 grams per liter of sugar creating a dry, Brut Nature style. The wine then rests for another 3 months before release.
Tasting Notes:
This golden straw colored wine offers a subtle nose of flint, wet rock and vibrant tart fruit with aromas of meyer lemon and puff pastry. The palate delves deeper into soft flavors of honeydew melon, and creme fraiche with an opulent, mouth-coating finish of lemon curd, and fresh baguette. Ethereal beads of bubbles, pair with piquant acidity to carry the wine to a long clean finish.
We really like the acidity we are getting from the wine and with the low ph it gives us a great chardonnay aspect. This graceful tension allows the pallet to get really excited about the Blanc de Blancs.

Wine Specs
Varietal
70% Pinot Noirs, 30% Chardonnay
Appellation
WILLAMETTE VALLEY