2016 Blanc De Blancs 750 6PK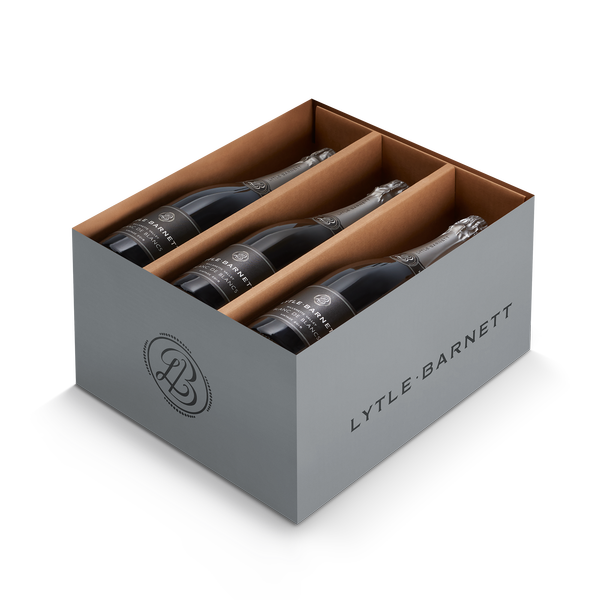 Our passion for the Blanc de Blancs style of Champagne is the reason we started Lytle-Barnett.
We decided to turn our passion into a reality. The Willamette Valley has been producing incredible Chardonnay since around 2008. We pride ourselves on being at the forefront of creating excellent vintage, Chardonnay-based sparkling wines that exemplify the unique terroir of Oregon's Eola-Amity Hills AVA.
How It's Made:
Chardonnay grapes were hand harvested from two different vineyards in the Willamette Valley. They were chilled overnight to allow for a gentle press cycle the next day in a traditional pneumatic press. The different blocks of Clone 76 and Clone 352 Chardonnay were vinified separately in a mix of traditional French oak barrels, stainless steel barrels, and stainless steel tank to develop depth and complexity of flavors while retaining an exacting freshness. The different vessels allowing different aspects of the fruit's flavor profile to emerge over the course of the primary fermentation and subsequent elevage creating a more dynamic and complex end result than a singular fermentation vessel would. The wine was bottled in the spring of 2017 and matured sur la'e (on its lees) until disgorging during the winter of 2020. Upon disgorgement, it was decided a small dose of 3.5 g/L would bring perfect balance and mid-palate weight to the youthful intensity of the wine. The wine was aged on cork for an additional 6 months after disgorgement before its release to allow the dosage to integrate and the wine to relax.
Tasting Notes:
This pale golden straw colored wine presents with a complex nose layered with a delicate flinty minerality , a subtle wet stone note, and mingled notes of tangerine, corn silk, vanilla cream and teak. The palate is alive with intense bubbles carrying primary flavors of lemon custard, quince paste, verbena, and white tea. As the palate opens, more yeast derived notes of briocche and golden delicious apple present. This is underpinned by a pervasive salinity tying together the palate. As the wine finishes on a focused acidity, a clean and elegant yeast note persists.
Wine Specs
Appellation
WILLAMETTE VALLEY