Blanc De Blancs - 6PK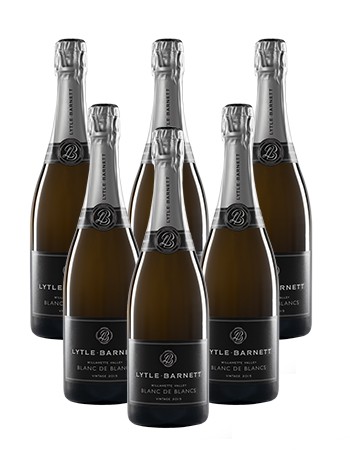 THE BLANC DE BLANCS IS THE REASON WE STARTED LYTLE-BARNETT AS WE HAVE A SIGNIFICANT PASSION FOR THIS STYLE. THE WILLAMETTE VALLEY HAS REALLY ONLY BEEN PRODUCING GREAT CHARDONNAY SINCE ABOUT 2008. THE OPPORTUNITY FOR BLANC DE BLANCS HASN'T BEEN AVAILABLE IN THE AREA FOR VERY LONG. WE FEEL THE QUALITY IS NOW THERE TO MAKE SOMETHING VERY SPECIAL.
THE BUBBLES ARE MADE IN THE VINTAGE MÉTHODE CHAMPENOISE TRADITION. HAND PICKED IN THE WILLAMETTE VALLEY THEN GENTLY PRESSED WHOLE CLUSTER IN A PNEUMATIC PRESS. THE 100% CHARDONNAY CUVEÉ IS KEPT SEPARATE AND FERMENTED IN STAINLESS AND OAK BARRELS. WE BOTTLE IN EARLY SUMMER AND LEAVE IT TO AGE FOR A MINIMUM OF 3 YEARS SUR LATTE (ONTHEIR SIDES). AT DISGORGE AND DOSAGE WE DON'T THINK THE WINE NEEDS A LOT OF SUGAR SOWE ONLY ADD ABOUT 2-3 GRAMS PER LITER. THE WINE THEN RESTS FOR ANOTHER 3 MONTHS BEFORE RELEASE.
WE REALLY LIKE THE ACIDITY WE ARE GETTING FROM THE WINE AND WITH THE LOW PH IT GIVES US A GREAT CHARDONNAY ASPECT. THIS GRACEFUL TENSION ALLOWS THE PALLET TO GET REALLY EXCITED ABOUT THE BLANC DE BLANCS.
Wine Specs
Varietal
70% Pinot Noirs, 30% Chardonnay